Nurse Practitioner Continuing Education (CE) Options: Which Type of CE Event is Right for You? In-Person Lectures vs. Online Courses.
 As the nurse practitioner role expands, advanced practice providers now have a greater impact in providing quality patient care that cannot be overstated. 
The quote by Florence Nightingale surmises the ongoing need for continuing education for providers.
"Let us never consider ourselves finished nurses…we must be learning all our lives."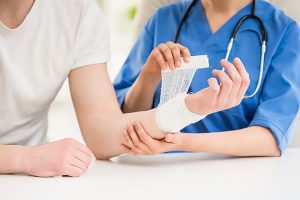 The need to keep updated with new technologies, cutting-edge treatments, and evidence-based research becomes pivotal for every provider. Continuing education is vital to stay up-to-date. This can be hard to fit into our ever-busy schedules. However, the practitioner must choose between in-person lectures or online learning to meet their learning needs. Here is a study comparing a variety of studies comparing e-learning with face-to-face instruction.
Which Option Will Best Suit Your Learning Needs?
In Person-Lecture

: Traditional classes are often geared toward a lecture from the instructor and interactive discussions from students.

Online CE Course

 improves access to real-time, self-paced education at your convenience. With social media platforms, video chat, and other technologies, providers can learn, connect and share knowledge to help each other learn. Instructor-led classes, skills workshops, and diagnostic classes can provide a similar level of attention to in-person meetings.

Still Trying to Decide? 

A hybrid approach may be the best approach to meet some providers learning needs. The blended in-person and online methods of instruction offer hybrid courses that combine the benefits of both approaches.
Conclusion and Next Steps to Pursue Your Continued Professional Development
NP Skills Made Easy continuing education courses provide both In-person lectures and online CE courses to provide excellent continuing professional education. Our courses are accredited by both AANP and ANCC accreditation agencies. The content is relevant to providers in primary care, urgent care, and geriatric, to telehealth practices.
Keywords: why continuing education, continuing professional education, nursing, continuing education requirements