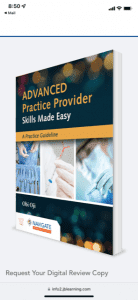 Time:
The workshop starts at 8am-5pm prompt.
Clinical Instructors
Tina Scott  MSN, APRN, FNP-C, ENP, C
Hilma Bochantin MSN, APRN, FNP-C
Details: Day 1
Suturing
Skin biopsy
Incision & Drainage
Splinting/Casting
Details: Day 2
Joint Injection
Cerumen Lavage
IUD Insertion/Removal
Implant Insertion/Removal
Live Webinar: Day 3 (July 17, 2022)
Anesthetic techniques including fanning & field block techniques.
All-day suturing workshop covering 5 suturing techniques
Subcuticular suture techniques
Toenail removal (partial avulsion) techniques
Subungual hematoma drainage.
Your workshop supplies will be mailed to your location! Earn AANP 8.0 CE and 0.75 RX
GET FREE BOOK WITH WORKSHOP ENROLLMENT
Dr. Oji and Jones & Bartlett Learning have partnered to offer you a discount on her new book, Advanced Practice Provider Skills Made Easy: A Practice Guideline. It is an easy-to-follow procedural guide designed to prepare advanced practice providers to perform primary care procedures safely and competently within their scope of practice. With your new print copy you get Navigate Essentials Access with the eBook and videos that demonstrate common skills that advanced practice providers in a primary care setting will likely perform in their career.